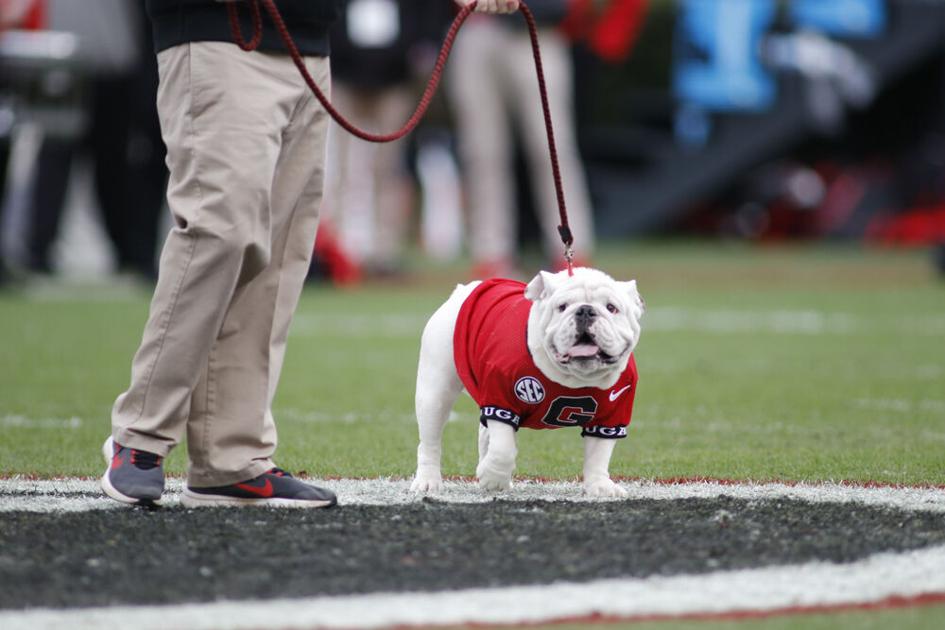 13 last minute Athens Halloween Costume Ideas | Culture
Halloween is right around the corner, meaning it's time to plan a costume. Athens has many characteristics that make it a distinctive college town, such as notable alumni or characters.
The Red & Black has put together a list of fun dress-up options for Halloween this year that are all characteristic to Athens.
Uga, UGA's beloved mascot
This costume is probably the best way to show school spirit. Just add a jersey, dog ears and a collar with the name "Uga" written on it, and suddenly you're Athens' favorite bulldog.
The B-52's
This art-pop quartet helped create a new wave sound that is important to Athens's identity. The band would be a great group costume; all that is needed is a big red wig, some guitars and go-go boots.
A can of Tropicalia from Creature Comforts Brewery
Ranked among some of the best local brews in the Classic City, this would be a one-of-a-kind costume that is true to Athens. Just grab a pair of light blue pants, an orange shirt and a label so people do not mistake this costume for the Lorax.
A pumpkin from Milledge Avenue Baptist Church
A pumpkin is always a safe bet for Halloween. It can be cute or sleek, depending on individual style. An easy DIY would be a pumpkin t-shirt from Walmart, leggings and a green headband.
R.E.M.
Iconic music groups from Athens are great choices because they're easy costumes that would get recognized. Get some R.E.M. t-shirts, blow-up guitars and circular sunglasses for this quirky group costume.
Brian Kemp
Going the political route for Halloween is bold, but a twist on it would be to give the costume a sense of humor. Governor Kemp is an Athens native who has been in the news a lot this year. A brown wig, blazer and nametag are all that is needed to complete this.
Kirby Smart
Football season is here, which means Kirby Smart is back in his element. This University of Georgia football coach has been a critical component of Athens culture since 2015, deeming him a worthy dress-up. Wear a UGA jacket or polo, a headset and a visor for this costume.
Stetson Bennett
Dressing up as a football player is something anyone can do for Halloween. This quarterback has been influential to Georgia football this year. To be a football player, all one needs is a jersey, helmet and face paint.
Ryan Seacrest
This notable celebrity attended UGA in 1992, although he dropped out to pursue a career in the entertainment industry. Seacrest may be one of the most famous people to have ever walked this campus, therefore making him a fun costume. Grab some hair gel, a slick suit and a pocket-handkerchief to look like this celeb.
Mama's Boy
While this costume may be a little far out, it would undoubtedly be different from most other outfits at a Halloween party. Wear all blue, label your shirt and have a white bike with you at all times.
Tituss Burgess
This actor and singer grew up in Athens, and is also a notable alumni. He starred in movies like "Set It Up" (2018) and "Unbreakable Kimmy Schmidt" (2015), to name a few. Burgess is usually wearing colorful printed suits and a solid shirt underneath on the red carpet.
Alton Brown
Brown is a chef that is also an influential personality on Food Network. Before rising to stardom, he attended UGA. Dressing up as this celebrity would be quite simple; wear thick-framed glasses, a bow tie and carry around a kitchen utensil.
Kim Basinger from LA Confidential
This 1997 crime film embodies the spirit of Halloween with a mystery centered at its root. Kim Basinger's character is originally from Athens, making her a costume with a backstory. Wear a blonde wig, red lipstick and a sleek white dress for this look. This costume could also pass for a 1950's pin-up girl.