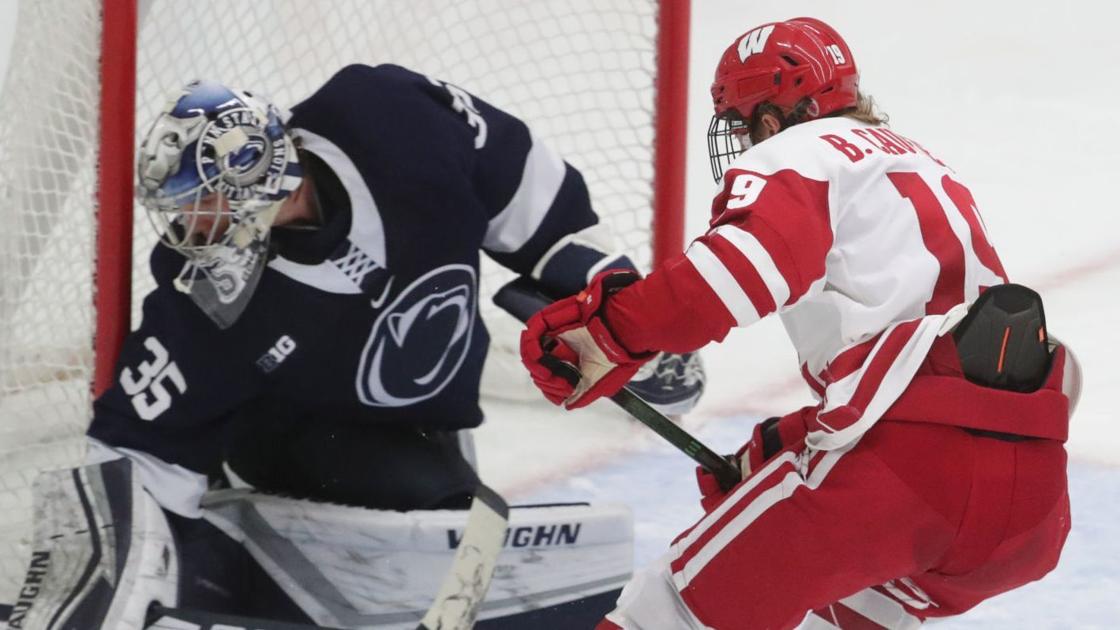 Because of short bench, Brock Caufield's offseason improvements mean even more to Badgers men's hockey team | Wisconsin Badgers Hockey
Being on the ice more is part of the reason why he's getting more opportunities to score. Playing for the last four games with his brother on one side of the top line and leading scorer Linus Weissbach on the other also is on the list.
Brock Caufield has been on the same team with his brother a few times but has had only limited chances to play on the same line or the same power-play unit.
"It's always great being around him but it's really cool to get to play with him, especially at a high level," Brock Caufield said. "And especially with Linus, too. He's a great player. We're trying to build chemistry and trying to be confident with each other. Obviously, we need to produce more so hopefully this weekend that shows."
The games against the Buckeyes start a road trip on which the Badgers will play four games in seven days. Cole Caufield will miss the back half of it and games Dec. 8-9 at Michigan State because the U.S. World Junior Championship camp starts Sunday.
That'll be another sharp curve in a winding first month of the season that for UW has included the last six games without center Dylan Holloway (Canada's World Juniors camp), five without center Ty Pelton-Byce (concussion and then COVID-19 protocol) and two sans forwards Roman Ahcan, Tarek Baker and Dominick Mersch (COVID-19 protocol).
The Big Ten altered its policy this season to waive travel roster size limits when a team is playing multiple road series on the same trip. That doesn't mean much right now to the Badgers, who were scheduled to travel Thursday with 20 players, two shy of the maximum allowed to dress for a game.