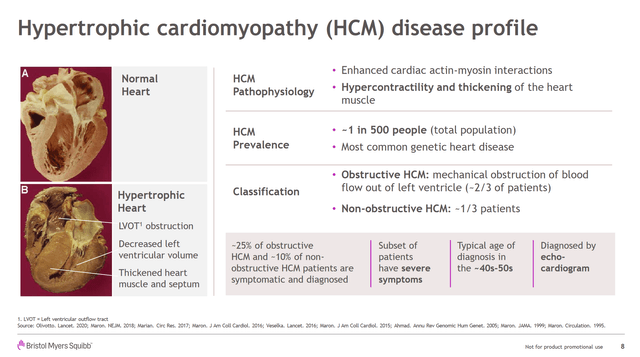 Bristol Myers Squibb: The MyoKardia Acquisition Was Not A Bad Idea (NYSE:BMY)
The $13.1 billion of MyoKardia (NASDAQ:MYOK) left some investors in Bristol Myers Squibb (NYSE:BMY) skeptical. Indeed, the company had not long ago served up heaps of cash to buy Celgene, seen as a promise of the end of inorganic growth with the pipeline finally being shored up. In addition to the MyoKardia acquisition being perceived as a breaking of this promise, it did not seem a great bargain either based on the rather limited number of diagnosed patients. However, on a deeper look, the acquisition seems rather promising. Using Eliquis pricing, it seems that, with strong execution, the acquisition would have been a bargain, and the biotechnology could have wider applications. Overall, the acquisition seemed appropriate, with management's decision to continue inorganic growth merely opportunistic in this case rather than strategically imperative. We continue to look favourably on BMY as a buy.
Mavacamten and HCM
Hypertrophic cardiomyopathy (HCM) is a genetic heart condition whereby the walls of the ventricle are overly thick, leading to a tendency for hyper-contractility which can lead to heart failure and sudden death. Mavacamten, which is in Phase III, is MyoKardia's drug which acts on heart muscle cells by getting in the way of the actin-myosin cross-bridge to reduce the intensity of heart contractions. For now, the drug's indication is for obstructive HCM.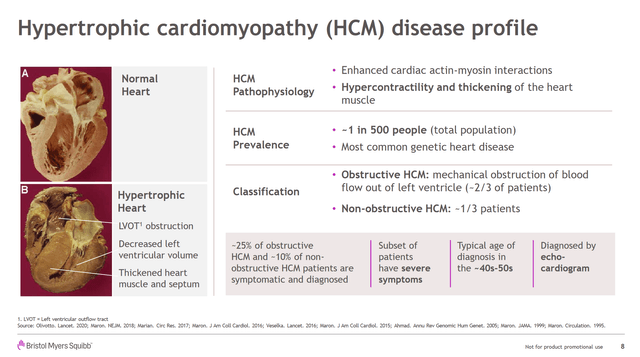 (Source: MYOK Acquisition Presentation)
There is also non-obstructive HCM as an indication for which is in Phase II and the possibility of using the precise biotechnology for other diastolic and systolic diseases. Indeed, they are at the pre-clinical stage with some of these indications, and in Phase I with others.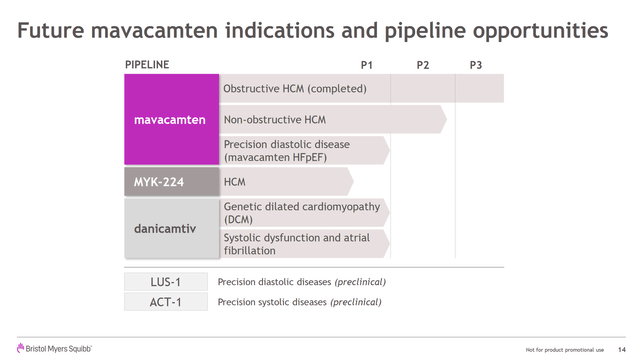 (Source: MYOK Acquisition Presentation)
Valuation
To consider the valuation, first, observe how many baseline customers there might be, that is people with diagnosed obstructive HCM. Taking those 200k people, we can scale it up to the whole population that might have HCM and might become diagnosed with greater clinical awareness. We can do the same for non-obstructive HCM.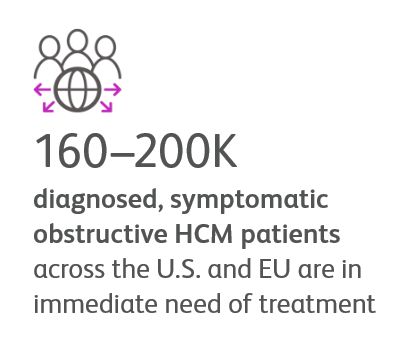 (Source: MYOK Acquisition Infographic and Presentation)
We can take these total market sizes under different assumptions of clinical awareness, which is the factor that would bridge the gap between diagnosed cases and total cases present in the global population. Using another Bristol Myers treatment, Eliquis, as a baseline for what is possible in terms of pricing for chronic treatment of conditions that can lead to heart failure, we can find the implied multiple for MYOK based on possible future earnings. Given the $13.1 billion consideration to be paid for MYOK, we get the following implied multiples under different commercialisation scenarios. We have averaged down the US price for Eliquis, assuming the other 50% of the population with HCM is in Europe, where prices would be lower.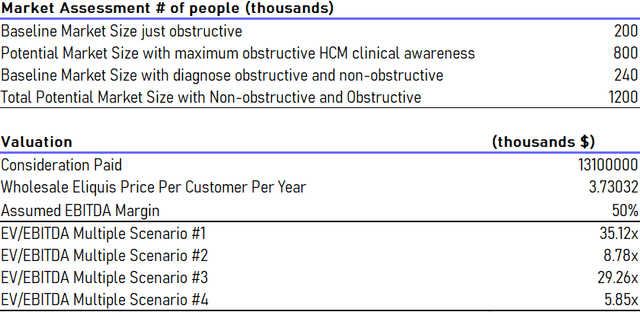 (Source: Valkyrie Research)
Risks and Conclusions
What is clear is that, based on the current level of diagnoses, the markets for HCM are insufficient to justify the price paid for MYOK. However, part of a pharmaceutical company's job is to raise awareness for conditions among clinicians, so that they can pay attention to the symptoms and be aware that HCM diagnoses may be appropriate with patients that present with irregularities of the heart. From minimal clinician awareness to total clinician awareness, whereby everyone with HCM has been prescribed Mavacamten in the event of its approval for both non-obstructive and obstructive indications, we go from multiples in the mid-double-digits to highly compelling multiples for a biotech company with a precision biotechnology.
We can conclude that based on the MYOK valuation, Bristol Myers management believes that eventual approval is entirely assured for obstructive, and probably quite likely for non-obstructive. From an investor's point of view, this, of course, means that, priced at current levels, BMY would have a ways to fall if approval failed repeatedly. Regarding commercialisation, investors will also carry the execution risk around raising clinical awareness for HCM. If all goes well, however, the price will have been a real bargain. Indeed, with the possibility of more precision indications for diastolic and systolic conditions, and cross-selling potential with Eliquis, the value could end up being even greater. With markets not penalising BMY for the acquisition, this would mean substantial upside in the best case scenario, where the markets would likely deem a 12x-15x EV/EBITDA multiple fair on MYOK's future, more stabilised earnings. With a product still not approved, it is very hard to predict what the financials of Mavacamten will be, but with faith in BMY sales and management teams, we think they will be able to squeeze good value out of the MYOK acquisition. We rate BMY a buy with another precision technology added to their portfolio.
Disclosure: I am/we are long BMY. I wrote this article myself, and it expresses my own opinions. I am not receiving compensation for it (other than from Seeking Alpha). I have no business relationship with any company whose stock is mentioned in this article.