Coronavirus live news: Auckland city workers asked to stay home over mystery case; US reports world record 136,000 daily infections | World news
Across the Pacific:
French Polynesia, which has one of the highest incidence of Covid-19 per capita outside mainland Europe, has recorded another 345 Covid-19 cases in the past 24 hours, bringing the archipelago's tally to 11,316.
52 people have died in the pandemic. But this number is likely to rise, with 21 currently in intensive care.
French Polynesia had recorded just 62 cases – most in visiting police and military personnel – when it opened its borders in July and abolished mandatory quarantine requirements. But the French territory has since been forced to impose a nightly curfew, and meetings in public have been limited to six people.
While France is in a nationwide lockdown, French Polynesia has been exempted.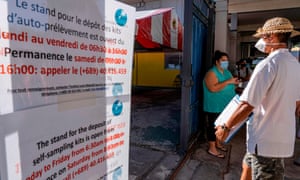 The Vanuatu government locked down the main island of Efate after it recorded its first case of Covid-19 on Wednesday, a citizen repatriated from the United States who tested positive in quarantine.
The 23-year old man is asymptomatic and is being held in an isolation ward at Port Vila Central Hospital.
"I want to assure our people that the Government will apply strict protocols and Covid-19 measures to ensure the case doesn't spread and our country remains safe," Vanuatu Prime Minister Bob Loughman said.
"The situation is under the government's control."
The Marshall Islands has declared it is, again, Covid-19, free, after the country's lone case, at the US army base in Kwajalein, was declared free of the virus.
"We will have our yellow flags back up this week," the government's chief secretary Kino Kabua said on Wednesday. Yellow flags are used to designate Covid-free status in the Marshalls.
"He ceased to pose an infectious threat on 8 November 2020 – his 12th day of supervised and secured quarantine – and has been assessed as recovered and no longer an active case of Covid-19 by his primary physician," a statement from the chief secretary's office said.