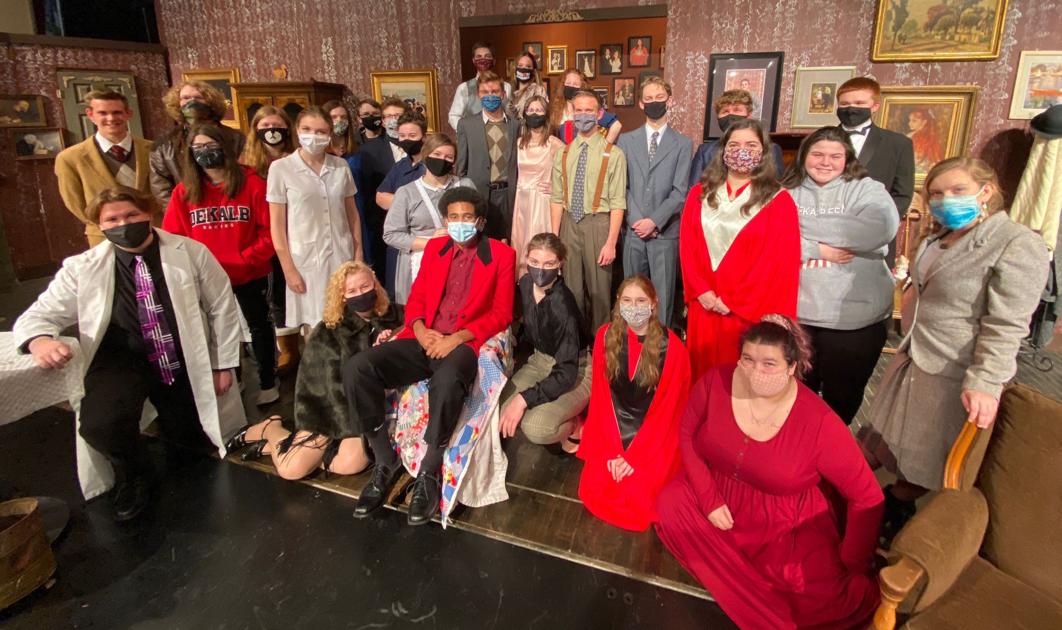 DeKalb students return to stage | Thestar
WATERLOO — DeKalb High School's fall play will look a little different in the age of coronavirus, but instructor Jed Freels and his students are grateful to be on the stage at all.
The school will present a classic comedy, "The Man Who Came to Dinner," Friday and Saturday at 7 p.m. in the school auditorium.
"I am really pleased that here we are in a high school, and we're pulling off a show of this caliber during COVID," Freels said.
"Despite all the obstacles that we face due to the virus and other things like people getting sick or people missing … we've still come together and created a successful production, and I think that means a lot," said Dorian Underwood, a junior cast member.
DeKalb County health officials and school administrators approved a plan to admit 186 audience members in the school's 600-seat auditorium, Freels said. White tape marks the seats that may be used in groups of two. Improvements to the air-handling system have increased ventilation in the auditorium.
"They were very supportive," Freels said about school officials. "They wanted this to be very safe, but they were like, 'If we can do theater. If we can give the kids something, just like football, or just like volleyball, we want the kids to be able to have that.'"
For those who can't attend in person, for the first time DeKalb will stream a stage show live both nights on Your Community Network, available free on the top navigation bar at auburnessentialservices.net or on Auburn Essential Services Channel 22.
Cast members have been rehearsing in masks, but will perform with uncovered faces on Friday and Saturday.
"It's been kind of a new acting challenge, but we have tried to get the kids to stay 6 feet apart. … We try to stay as far apart as we can in most scenes," Freels said.
In another adaption to the times, one key actor missed time due to quarantining, but participated in rehearsals through a laptop computer.
In one change that is not health-related, this weekend will see the first performance on DeKalb's extended stage, which now stretches 11 feet further toward the audience by covering the orchestra pit. That required installing more lights to illuminate the new front of the stage.
Even without all the changes, the show's script is challenging enough.
"The thing I love about this show — it's got a lot of parts, a lot of kids, very difficult to get it across, but they've worked extremely hard at learning," Freels said. Cast members are working on characterizations and plot analysis — "the things that really help build them as actors and actresses," he added.
Lead actor Gabe Tobierre "has more lines than any other lead in a classic play — about 60% of the lines are his," Freels said.
Tobierre portrays obnoxious New York City radio personality Sheridan Whiteside, who visits the home of a prominent factory owner in a small Ohio town. When he is forced into an extended stay by a fall on the ice, "all mayhem breaks loose," Freels said, and it changes the lives of the host family forever.
Broadway legends George S. Kaufman and Moss Hart wrote the play, which ran on Broadway from 1939-41. DeKalb is producing it as part of the theater department's classics series.
The show involves 30 cast members, and another 30 students from DeKalb's four theater classes are working on the production, which features elaborate sets and props. Three student directors are running rehearsals.
"I believe this has been one of the loudest productions we've ever done, from screaming to shouting, but it's also been one that really brought us together, and it's something we can really unite with, because it hits every single one of us — like there's some aspect of some crazy person in this show that you can relate to," said senior Zaira Finderson, who portrays factory owner Ernest Stanley's wife.
Freels pointed with pride to Jesse Graves, playing a leading role as Ernest Stanley.
Graves started in the theater program as a tech crew member, then took charge of the theater shop, Freels said, "And this year, he decided to try out for the lead … and doing a phenomenal job. The thing I love about that the most is the growth I've seen out of that student. It's fun to see kids come in the department … they see something and they want to try it. They continue to grow and grow, and here he is, marching around the stage like he owns it."
For all the students, returning to the stage is a welcome development after the pandemic cut short their spring theater season.
"It's great to see the theater come together as a family again, even during COVID-19," said Willow Wolf, a senior.
"In the times of coronavirus as an artist, … we don't know when or if we'll get an opportunity like this again for a long time," said junior Madeline Steck. "So as a cast, it's been really important to us that people come see the show, because we don't know when we can again, and we're really lucky to be making art in this time."