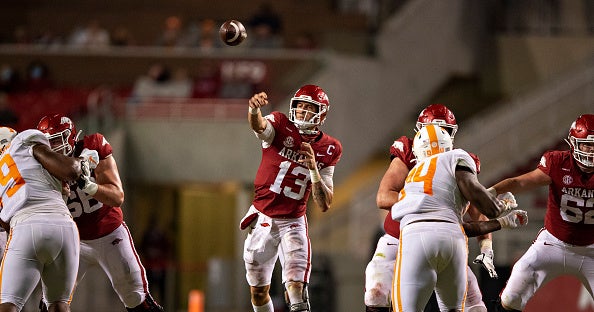 Feleipe Franks 'stands out' among Arkansas' improvements
Arkansas got back in the win column on Saturday with a 24-13 victory over Tennessee. A big reason why? Feleipe Franks.
The former Florida quarterback hit his stride this season and seems much improved as a passer. Not only did he improve as a passer, he's a safer thrower.
Speaking on SEC Football Final, analyst Chris Doering credits Franks as the biggest reason why the Arkansas offense looks a lot better in 2020.
"The defense is one of the most opportunistic," Doering said. "Tonight, finished plus-two in the turnover margin. The thing, to me, that stands out is the way Feleipe Franks has protected the football. That was something he didn't always do in his career dating back to his years at Florida. He was known to turn the football over. He has been much more judicious with the football, and, in general on offense, not (shooting) themselves in the foot."
Fellow analyst and former Auburn coach Gene Chizik took it a step further and pointed out all of the areas where Franks improved.
"He's throwing dimes in the red zone," Chizik said. "The last couple of weeks, the run game is where he's really made some gains. Last week he was the leading rusher on the football team. (Against Tennessee), he did a lot of great things with his legs as well."
Against Arkansas, Franks finished the game 18 of 24 passing for 215 yards and three touchdowns. On the season, Franks is 123 of 183 passing (67.2% completion percentage) for 1,428 yards, 14 touchdowns, three interceptions and 174 rushing yards.
"We count on Feleipe. He's our guy," Arkansas head coach Sam Pittman said after the game. "He's a tough guy, he did some things with his legs again. He made some key runs…he was banged up and played. He's our leader and he's our bell-cow."
Senior Bowl director Jim Nagy believes Franks is generating some buzz as the season moves along and could make a late push to move up in the draft.
"One QB generating draftable buzz among NFL scouts is @RazorbackFB Felipe Franks (@18franks)," Nagy tweeted. "Florida grad transfer has high-end physical traits and he's always made some wow-type throws but this year he's playing steadier and getting strong endorsements from Arkansas staff."
A transfer from Florida, Franks was a four-star prospect in the Class of 2016, according to the 247Sports composite rankings. He was the No. 9 prospect in the state of Florida, the No. 5 pro-style quarterback prospect in the class and the No. 54 overall prospect in the class.
Get the fastest scores, stats, news, LIVE videos, and more. CLICK HERE to download the CBS Sports Mobile App and get the latest on your team today.
Arkansas (3-3) is set to travel to take on No. 6 Florida (4-1) next Saturday at 7 p.m. ET.