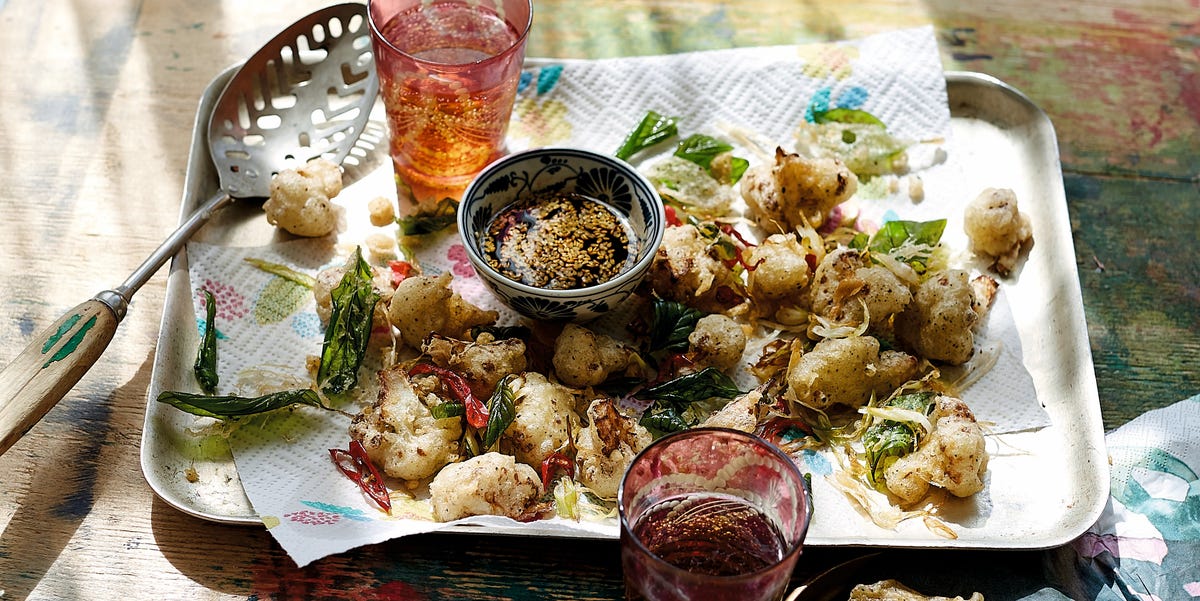 Five cookbooks to bring some flavour to your kitchen
1
Jikoni by Ravinder Bhogal
The chef Ravinder Bhogal's debut cookbook Jikoni, which shares its name with her much-loved Marylebone restaurant, is full of tempting recipes whose fusion of flavours is inspired by the regional home cooking of Bhogal's Indian ancestors, by seasonal and local ingredients, and by the people she has encountered throughout her life. Among these 'border-blending dishes', to use Bhogal's own term, are her cauliflower popcorn with black vinegar dipping sauce, her prawn toast Scotch eggs with banana ketchup, and her duck and pistachio pierogi with hot yoghurt sauce and pul biber butter – the latter celebrating three different culinary traditions; French, Polish and Turkish.
'Jikoni: Proudly Inauthentic Recipes from an Immigrant Kitchen' by Ravinder Bhogal (£26, Bloomsbury) is out now.
2
Ottolenghi: Flavour by Yotam Ottolenghi and Ixta Belfrage
The latest cookbook from Yotam Ottolenghi, this time co-written with Ixta Belfrage, is a glorious ode to veg-centric cooking. Divided into three parts – process, pairings and produce – it reveals the secret to creating flavours that really sing. With dishes such as spicy mushroom lasagne, Romano pepper schnitzels and miso butter onions (which, it's worth noting, calls for just three ingredients), the volume serves up low-effort recipes with plenty of taste. Jazzing up weeknight dinners or weekend feasts, and suitable for both the novice and the seasoned cook, it is sure to bring a burst of flavour to your kitchen.
'Ottolenghi: Flavour' by Yotam Ottolenghi and Ixta Belfrage (£27, Ebury Press) is out now.
3
Falastin by Sami Tamimi and Tara Wigley
A love letter to the food and people of Palestine, featuring recipes and stories that take the reader on a virtual journey through Bethlehem, East Jerusalem, Nablus, Haifa, Akka, Nazareth and the West Bank. Sami Tamimi and Tara Wigley's Falastin provides a delectable mix of the traditional and the contemporary. Shining a fresh light on the Palestinian pantry, recipes include roasted cod with a coriander crust, sweet tahini rolls, and labneh cheesecake with roasted apricots, honey and cardamom. With ideas for both everyday meals and shareable feasts, Falastin is full of recipes that you will fall in love with.
'Falastin: a Cookbook' by Sami Tamimi and Tara Wigley (£27, Ebury Press) is out now.
4
Simply by Sabrina Ghayour
Maximum flavour with minimum fuss is the focal point of this new book by Sabrina Ghayour (the author of the widely celebrated Persiana), which has chapter names such as 'Effortless Eating' and 'Traditions with a Twist'. Simply provides more than 100 recipes that are bursting with zest and colourful flair, all inspired by Ghayour's Persian roots but adapted with an 'East meets West' approach to suit the modern-day cook. Try your hand at recreating dishes such as spiced pork wraps with green apple salsa, baked sweet potato and za'atar chips, and tahini, almond and orange brownies – just a few examples of the book's host of boldly flavoured recipes designed to spice up any occasion.
'Simply' by Sabrina Ghayour (£26, Mitchell Beazley) is out now.
5
Saucy by Nina Parker
If you think eating healthily means resorting to bland and boring food, think again. The London-based private chef Nina Parker finds inspiration in cuisines ranging from Californian to Japanese in her latest cookbook, Saucy, which focuses on nourishing, colourful recipes that are full of flavour – from Dan Dan noodles with peanut sauce to Mexican-inspired roasted sweet potatoes. The secret? It's all in the sauce.
'Saucy: A Cookbook, Only Saucier' by Nina Parker (£13, Taylor Brothers) is out on 18 November.
This content is created and maintained by a third party, and imported onto this page to help users provide their email addresses. You may be able to find more information about this and similar content at piano.io