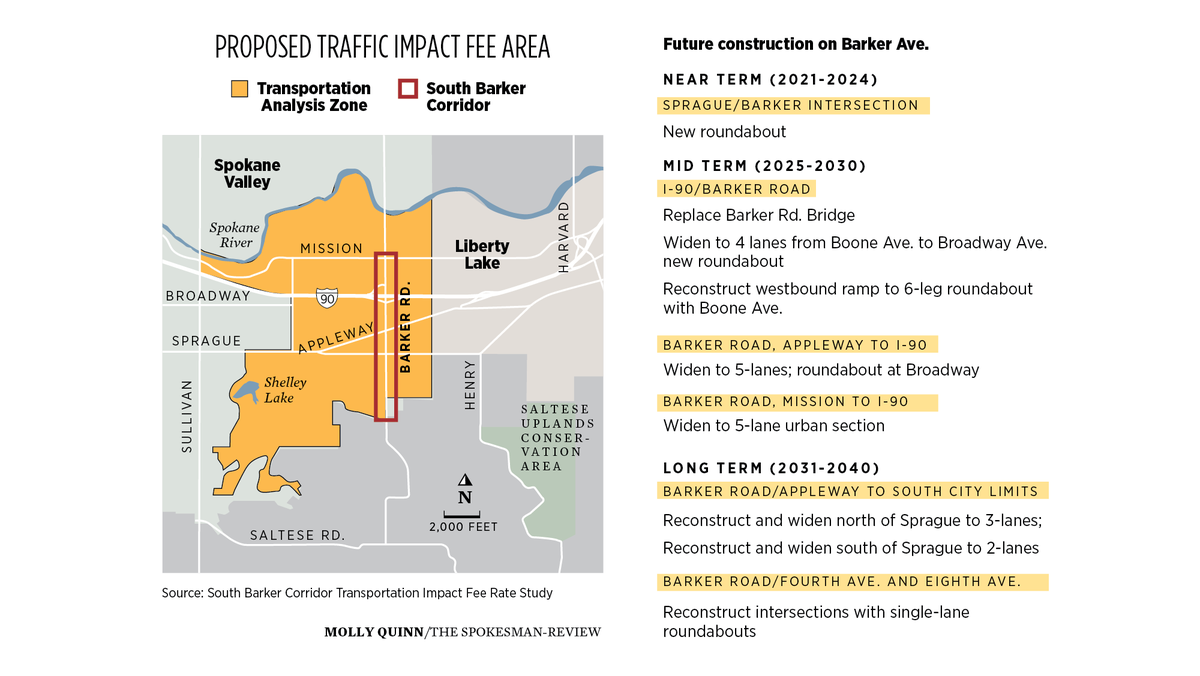 Getting There: Spokane Valley considers traffic impact fees to fund Barker improvements; STA scales back service expansion plan
The list of recently completed and pending improvements to Barker Road in Spokane Valley is long, but city planners aren't done lining up alterations to the busy north-south corridor on the eastern edge of town.
A recent study identified nearly $19 million work of additional work – including constructing new roundabouts at the road's intersections with Sprague, 4th and 8th avenues and widening the street to five lanes from Mission Avenue to the south city limits – that should be completed by 2040 to keep up with projected growth.
To pay for that work, the city is considering employing a tool not currently in use in Spokane Valley: traffic impact fees.
Those fees would tack on a surcharge for any development in an area that extends east to the Liberty Lake border, north to the Spokane River and south to the city limit. The western border of what's known as the South Barker Corridor TIF area is a jagged line that moves back and forth on either side of Flora Road. The areas included were those there determined would contribute "a meaningful amount" of at least 1% of total traffic to Barker Road, according to what's known as the South Barker Corridor Transportation Impact Fee Rate Study.
The cost of the fees within that area would depend on the proposed land use and the amount of projected new traffic it would create.
The builder of a new single family home or duplex, for example, would be charged $1,260 per dwelling unit, while a new elementary school would be charged $1.74 per square foot of the new building.
While new to Spokane Valley, traffic impact fees are common elsewhere, including in Spokane, which varies the charge based not only on the kind of construction but also on where it will be built. A new multi-family residential project in downtown Spokane, for example, will be charged just $70.05 per unit, while a single family home on the West Plains will cost $1,258.92 in fees, according to a presentation given the city's Planning Commission in October.
The Spokane Valley study notes that in "nearly every TIF program across Washington and the country, the total eligible costs of building new transportation capacity is divided by the total growth in trips to determine a cost per trip. All developments pay the same cost per trip, but larger developments that generate more trips pay a higher total fee than smaller developments. In this way, the cost to provide the new transportation infrastructure is fairly apportioned to new development."
In other words, Spokane Valley City Engineer Bill Helbig said, the use of traffic impacts fees "is just a methodology to have new development pay their fair-share portion of new projects."
But that "fair share" wouldn't be the total cost of the projects identified. Instead, the study projects the new fees would raise only about $3.6 of the $18.8 million needed to complete the work in five stages over the next two decades. The $15 million gap would have to be filled with city funds, grant funds or other sources, Helbig said.
The city will host a virtual public meeting about the proposal on Thursday. Information about how to attend and submit questions is available at spokanevalley.org/impactfees.
STA scales back service expansion plan
"Like everything in life," Karl Otterstrom said last month, "COVID entered stage right and changed everything."
Well, not everything, the Spokane Transit Authority's director of planning and development quickly clarified.
Work on the City Line – the agency's long-awaited bus-rapid transit system – is well underway and on track to be completed on schedule.
STA is also moving ahead with plans to revise and expand its bus system once the City Line's 60-foot articulated electric buses start running from Browne's Addition to Spokane Community College in May 2022, forming what Otterstrom has previously called an "urban spine" for the bus system.
But among the countless things COVID-19 did change was the scope of that expansion.
STA initially aimed to ramp up to 515,000 service hours on its system by 2023.
Now, after severe declines to ridership due to the pandemic, the agency is hoping to get to 488,000 service hours.
That's still an increase of 35,000 service hours, Otterstrom emphasized, and many of the key elements of the City Line-inspired changes will still move forward.
Details about the changes and a survey designed to gauge rider input about them is available at spokanetransit.com/input, but Otterstrom said the alterations include scaling back plans to create a grid in North Spokane in favor of maintaining a focus on greater frequency along existing routes.
The effect of creating too many grid lines, he said, "diluted" STA's ability to increase frequency.
"And frequency," he noted, is the "freedom to travel."
Pandemic restrictions also also led to a rethinking of "how we balanced hours" across the system. That meant planners looked at parts of the bus system where ridership has "gone into a longer term decline and, basically, the fundamentals have changed over time."
Such balancing has led to proposals that would, for example, change Route 43, which currently travels the South Hill via Lincoln Street and ends at the South Hill Parking and Ride.
Under the new proposal, Route 43 would end at the Manito Shopping Center at 29th and Grand.
The pandemic has also highlighted "the fact," Otterstrom said, that some routes "don't have the same ridership on weekends, particularly on Sundays," as they do on weekdays.
That has led to reconsideration of STA's practice of providing service seven days a week.
To that end, under the proposal, Sunday service would be prioritized to serve essential workers, such as those who work in grocery stores and hospitals, and routes that don't have any other service within a half-mile.
STA is also "looking at ridership utilization" on Sunday and "triangulating through those criteria" to determine which routes will no longer run on Sunday.
Among those routes that would lose Sunday service under the existing proposal are the 26 (Lidgerwood/Empire), 34 (Freya) and 12 (South Side Medical Shuttle).
But these changes, Otterstrom emphasized, are subject to further change.
"This is a starting point for public engagement," he said. "Many of these elements will change based on public feedback."
Already, he said, the agency has received hundreds of responses about its scaled back expansion plan, and the survey will be open until Nov. 13.
The agency will then work on a draft recommendation, which will go to STA's board in March for consideration and will not take affect until spring of 2022, when the City Line is slated to open.