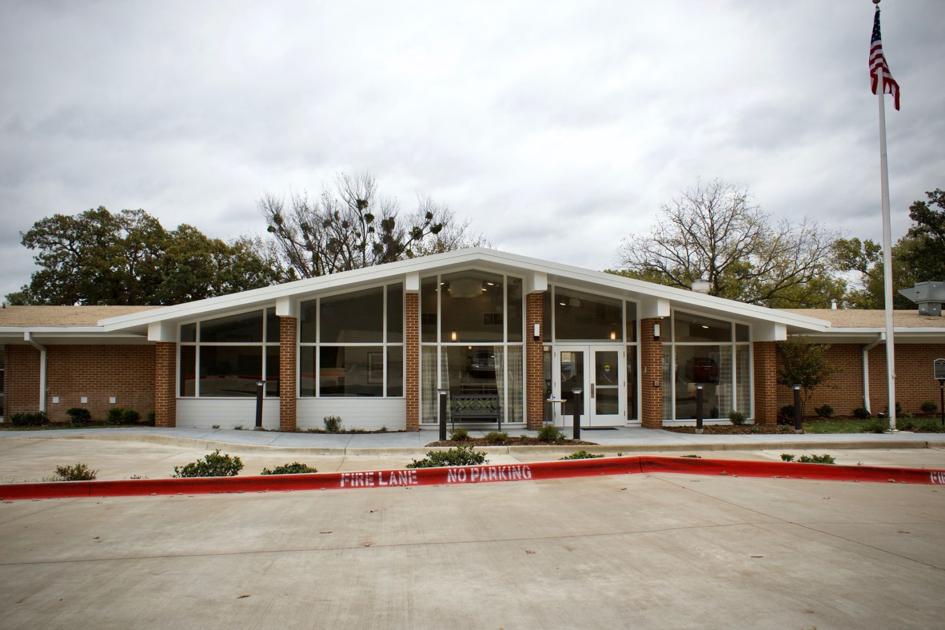 History resurrected: Fairhaven set to reopen following $8 million renovation | Denton
After it was left vacant for years, an architecturally significant and historic Denton property is reopening Monday following an $8 million renovation project.
"It was run successfully until 2007," said Justin Hobson of InvestCor Development, the Austin company that funded the rehabilitation of Fairhaven retirement home on Bell Avenue. "It just reached a point where it needed a significant amount of capital improvements. It was boarded up for essentially 10 years, and it was purchased by a developer who was going to tear it down and build a new project or renovate. They decided to renovate, but they found a ton of asbestos and they abandoned the project. It just sat there."
During an open house Thursday, Margie Garrett, 91, said she will be the first resident to move into Fairhaven. She was the center's resident services director in the late 1990s.
"I'm so thrilled to death. I'm getting to come back," she said. "This is fabulous."
The renovated building includes 48 units, a library, a beauty salon, a restaurant, bistro and multipurpose room. Outside Fairhaven is a courtyard, an outdoor fireplace with a sitting area, a koi pond and walking trails on more than 3 acres.
"I think it's great that somebody was able to use the processes and programs offered to make it commercially viable," Mayor Chris Watts said. "I know that was the concern for a lot of people looking at it. Developers couldn't go vertical with their construction. But they found the right company to come in. Any time you can refurbish something that's been sitting dormant for many years, that's always a good thing."
O'Neil Ford, one of Texas' most famed architects, designed Fairhaven with A.B. Swank and Roland Laney after a group led by Myrtle Richardson and Bessie Shook spearheaded a fundraising campaign to build a retirement home.
"They were part of the Federated Women's Club in the 1950s," Randy Hunt, president of Historic Denton, said. "They were business owners — professional women — and a lot of them belonged to the churches by Denton High School. They got started because Myrtle couldn't find a place for her mom. She realized there were no places for older retired people to live, other than in someone else's house as a renter."
Historic Denton is the organization that started the effort to restore Fairhaven, which was built in 1965. The Texas Historical Commission told Hunt and other advocates they want to focus on preserving buildings Ford designed around Denton, including Fairhaven. Ford's works in Denton also include the Little Chapel-in-the-Woods at Texas Woman's University, Denton City Hall and the Denton Civic Center.
Hunt said he talked for three months with the property owner, InvestCor, which told him that the property needed to be listed in the National Register of Historic Places with the National Park Service so that tax incentives could be obtained.
"And I did it," Hunt said. "Historic Denton created this opportunity."
In a letter dated June 25, 2018, to the National Park Service, Hunt made his case to list Fairhaven on the National Register.
"In 1956, residents in Denton, Texas, began a vision for a retirement home located in Denton," he wrote. "Their apparition is reflected in the two words selected to describe their efforts: 'Fair' for seniors and a 'haven' for residents.
"Their vision for Fairhaven was for a residence for older persons designed as a hotel type home with facilities for the active retired person — specifically not a variation of a hospital or nursing home. O'Neil Ford, hometown architect, was commissioned to design the Fairhaven."
The letter includes the history of Fairhaven — the people involved, the money raised and those leaders who ensured its survival for more than 40 years.
"Myrtle created a grassroots movement and talked O'Neil Ford into it," Hunt said. "And women drove it. They got their husbands involved and a couple of hundred people and they did all the fundraising. They started with bake sales on the Square. They did all kinds of stuff."
The Fairhaven renovation would not have happened without the tax credits, Hobson said.
"This is something we could not have done without the support of the city and the local community," he said. "We also went through the state and federal tax credit program. Without those two programs, there's no way anybody could have done this. It wouldn't have made financial sense."
Fairhaven was built in 1963 and opened to residents in 1965. Before renovations started in 2018, the property was in "rough shape," Hunt said.
"It was gutted," he said. "Most of the windows were busted out. It was in rough shape and had been that way for seven or eight years."
In addition to state and federal tax credits, the project received a 50% property tax abatement for 10 years from the city.
"We got super excited about this project being so unique and special with so much history behind it," Hobson said. "It was not an easy project. It would have been easier to build something from scratch than to do what we did."
It took a year and a half to complete the renovation.
"We also used firm in Dallas called ArchiTexas," Hobson said. "They get equal credit in that National Register process. Randy Hunt is behind that. Everything on the building had to keep the original design. A lot of attention and thought was put into the original design of the building."
PAUL BRYANT can be reached at 940-566-6881 and via Twitter at @paulbryant_DRC.