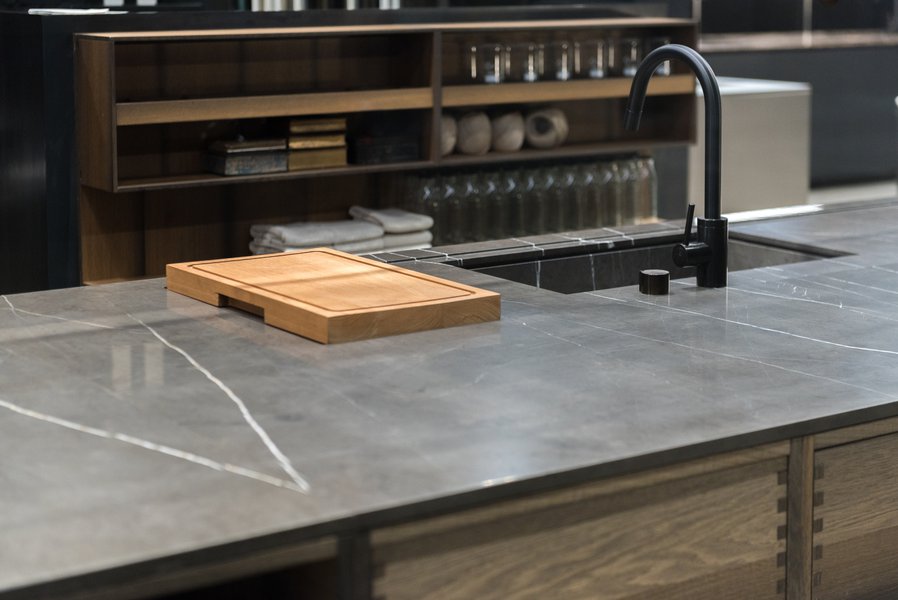 Is Leathered Stone a Good Choice for Your Kitchen?
The kitchen is often a primary focus of many buyers during the home search. According to the National Association of Realtors' 2019 Remodeling Impact Report, a complete kitchen renovation is first on the list of home improvement projects that most appeal to homebuyers. In second place is a kitchen upgrade, which likely reflects projects like stainless steel appliances and new stone countertops.
Natural stone countertops are always a welcome sight for homebuyers, whether they're granite, marble, or quartz. A growing trend is textured stone countertops, namely leathered stone. But even if you have room in the budget for your kitchen remodel, you might not want to spend it on this upgrade. Let's take a look at what leathered stone is as well as some of its pros and cons.
What is leathered stone?
When natural stone is used for kitchen countertops, the slab is cut and finished. Usually, the stone is polished, lending it that beautiful, glossy look that so many homebuyers covet.
Not into gloss? You can have the stone honed instead. This process basically sands off most of the shine, leaving a smooth matte finish that many homeowners find very beautiful.
Then there's leathered stone, which has a surface that is textured and pebbly, like leather. This type of finish is achieved by further processing the stone through sanding and buffing, sometimes using brushes and water jets. This finish can be put on darker marbles, quartzes, or granites to bring out a rich texture.
The pros and cons of leathered stone
Here are some reasons leathered stone could be a hit for you kitchen remodel:
It enhances the color of the stone. While smooth stone offers high shine, leathered stone brings out the rich natural color. Want the best of both worlds? Opt for what's known as a caressed finish, which polishes the raised parts of the leathered stone to add back some sheen.
It resists fingerprints and scratches. Glossy countertops will see their fair share of fingerprints, and they can get scratched more easily. When you remove the shine, as with leathered stone, you won't see fingerprints or scratches on the rugged texture.
It doesn't require resealing as frequently. To be fair, all stone countertops need to be resealed eventually. But with glossy and honed stone, it needs to be done more frequently so that the counters won't absorb moisture and get stained. With leathered stone, the finish closes off the pores, leaving it less prone to water absorption and staining.
And here's why you might want to go with glossy or honed finishes after all:
It's more expensive. Leathered stone costs more because it takes longer to process — and is also usually made to order, which is always pricey. According to HomeAdvisor (NASDAQ: ANGI), the average price for materials alone is $40 to $60 for granite, around $60 for marble, and around $75 for quartz; rarer colors and more premium materials cost more. Add the leathered texture to any of these stones and you can easily more than double the price.
It's harder to clean. While smooth granite might show more fingerprints, it sure is easy to clean. Not so with leathered stone. You'll have to use a bit more elbow grease to get that pitted surface clean.
Not all homebuyers will appreciate it. Beauty is in the eye of the beholder. Blame it on all those house-hunting shows on TV, but homebuyers have been trained to fall in love with a smooth countertop aesthetic. Despite the higher price tag, leathered stone might actually be a disappointment for some. If you want to add luxury to your kitchen reno that will make a bigger hit with homebuyers, you'll probably be safer spending more on a higher-quality stone rather than paying extra to have it textured.
The bottom line
In luxury markets where the expensive details are everything in high-end homes, leathered stone might be a good fit. But most homebuyers are likely to be wooed by glossy and honed stone countertops instead. If you've got money to burn, the better kitchen countertop upgrade might be in the quality of the stone itself rather than the textured finish.