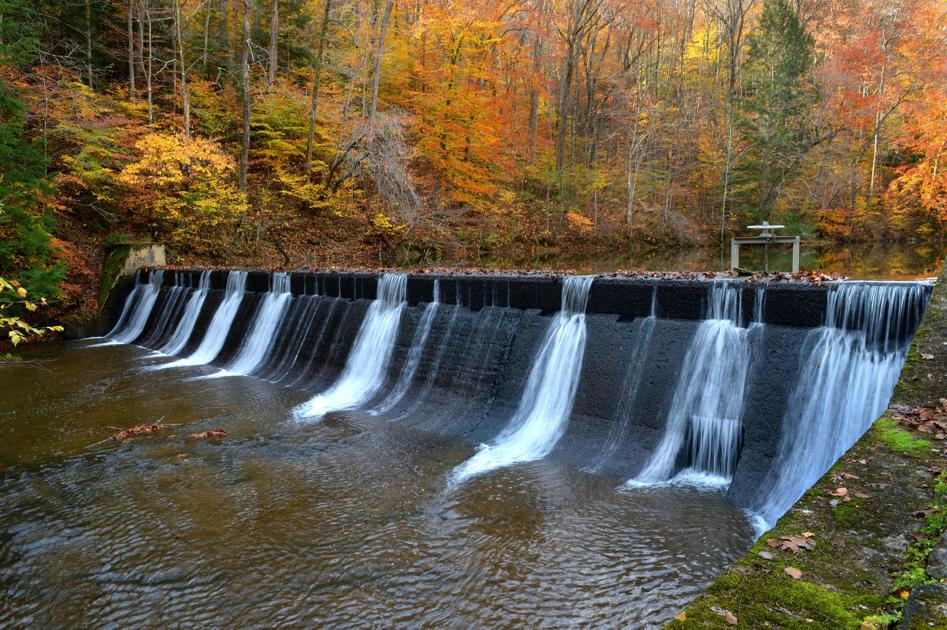 Justice pledges to speed up completion of Kanawha State Forest improvements | Kanawha Valley
Gov. Jim Justice said on Wednesday he would make sure more than $2.5 million in improvements planned for Kanawha State Forest would be completed within 10 months.
"It's been more than a year trying to get this work done in one of the busiest units of the state parks and state forests system," said Justice, who announced the accelerated completion time for new KSF infrastructure enhancements from the front porch of the park's new administration building.
"I told [Division of Natural Resources Director] Steve McDaniel and [Department of Environmental Protection chief] Austin Caperton this morning, 'Let's get this done right now. Really soon,'" Justice said. "My soon means anything from today to no more than 10 months from now."
The DEP began developing a plan in 2018 to remove or breach the dam at Ellison Pond, near the park's main entrance, and make fish habitat improvements on a one-mile stretch of Davis Creek upstream of the pond site to KSF's former swimming pool area. Later, stream improvements would be extended upstream in increments to include the remaining stretch of Davis Creek within the park.
The dam, built 80 years ago by the Civilian Conservation Corps, and the 3-acre pond it creates are scenic and historic, but the accumulation of more than 30,000 cubic feet of silt created by the dam has left the pond only about 18 inches to 24 inches deep, making it a poor fishery and a safety hazard.
The dam, built to create a swimming pond for the then-new state forest, serves no flood control function. Its removal, and the creation of upstream fish habitat improvements, is expected to cost about $1.5 million. Funding may be possible through the DEP's In-Lieu Fee Program, a funding pool created through fees paid by DEP license holders to mitigate for activities that harm the environment.
An additional $1 million in infrastructure work has been authorized for Kanawha State Forest as part of a $100 million state parks improvement fund created during Justice's term in office.
Projects at KSF include completing a nature center with wildlife exhibits, and a museum dedicated to the CCC and its legacy within the state parks system, in a wing of the new administration building. Also authorized are major renovations to two bathhouses at KSF's campground, upgrading campground sites with power to 50 amp service, bringing 50-amp power to 10 currently non-powered sites, and WiFi improvements.
Chelsea Ruby, State Tourism chief, said 241,380 vehicles have visited the park so far this year, carrying an average of 2.3 people per car, according to a West Virginia University study.
"We're seeing more West Virginians than ever getting out of the house and into our parks this year," she said. While the majority of KSF visitors come from Kanawha and adjacent counties, there is a significant out-of-state visitation component, she said.
Surveys indicate that 87 percent of visitors to West Virginia state parks and forests from outside the state make return visits, according to Ruby.