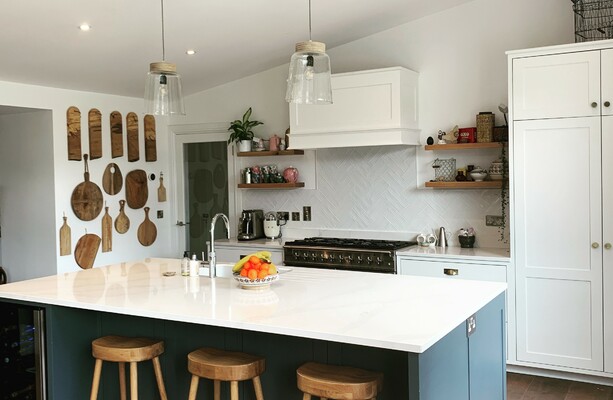 Kate shares her new-build kitchen in Wicklow
Each week, we ask someone based in Ireland with a passion for interiors to share one photo of their favourite spot in their home.
This week, Kate Byrne (@thefamilyfarmhouse) chatted us through her favourite spot in her Wicklow home: her kitchen.

Source: Kate Byrne
What do you love about this part of your home?
I believe that the kitchen is the heart of the home. I have always loved to bake and to cook and probably put more thought into the kitchen than the rest of the rooms in the house put together! Our kitchen is where we spend most of our time and if we have people over, we inevitably gather around the island. We do all of our living in this room so we needed it to be a functional yet stylish space, which is something I hope I have achieved.  
What's your favourite object in here and why?
Without a doubt the chopping board wall. I think the colour of the timber brings warmth to the room and gives a more cohesive look to the kitchen. I love that some of our boards were made by a company (Ballyshane) from only up the road using locally sourced timber. My dad hung the boards for me and looked at me like I was mental when I first suggested it but it has been well received by everyone who has seen it so far.
Be honest: How much tidying did you do before taking this photo?
Lots! I never realised before having a baby the ability that they have to make a mess. I wouldn't have it any other way though.
#Open journalism
No news is bad news
Support The Journal
Your contributions will help us continue
to deliver the stories that are important to you
What was your inspiration when you were putting this room together?
I take inspiration from lots of places but I rely quite heavily on Pinterest and Instagram. I love relaxed, neutral decor that incorporates lots of textures. I also love vintage and antique pieces; I think they bring such character to a home, especially if your home is a new build. We have included a mixture of antique and modern furniture in our home which I feel work well together.  
Is there anything in here you'd like to change?
Honestly, no. I think our home is constantly changing and evolving as we live in it and I'm forever rearranging things and spotting new ideas online that I want to try out. But I really am very happy with our home and how it has turned out.