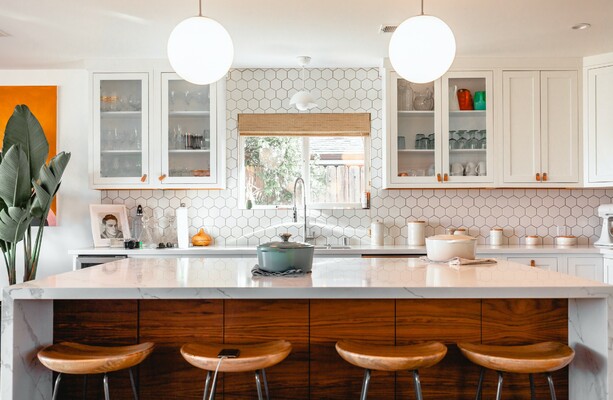 Kitchen island or bigger garden? Rate your design priorities when buying a home here
BUYING YOUR FIRST home is an exciting time – but it is also a time when big decisions come thick and fast.
This autumn, we're setting out to understand what first-time buyers in Ireland want, and what they need.
We want to know what you're confident about, what you're not so sure of, and what stresses you out. And we want to help along the journey, by providing the most relevant answers and the most informed advice. 
Over the full series we'll be tackling five key topics for homes on the market: price and quality; location and community; what's inside; energy and sustainability; and moving in. These align with the topics of a recent survey of first-time buyers on Daft.ie, which we'll also be reviewing.
In our fourth article, we're looking at what's inside the home you're buying. What are you looking for in terms of design, room layout and fittings? How much indoor and outdoor space do you need?
Answer the questions below to build a picture of your priorities – and see how you compare to other first-time buyers. Each time you give a rating, you'll see how your number matches the overall reader average.  
First up: What does your dream home look like, inside and out? And do you have a clear idea of your needs?
Now let's look at some individual features.
Individual features of a home aside, the amount of overall space is often a key issue for first-time buyers. Almost one in four first-time buyers in the Daft.ie survey told us that their biggest issue with the homes available on the market was the overall square footage available.
So what are your requirements when it comes to space? How much room do you need to spread out?
Over the last year, our everyday lives have changed significantly – and with them, our needs in a home. One of the most prominent changes has been the rise of working from home. For many buyers, this has put a new focus on the need for connectivity.
So how did you compare to other first-time buyers? Are you right on the average, or out on your own? 
Stay tuned for more articles in this series, as we'll be bringing you expert advice and insights for each topic too.
At Glenveagh Homes, our vision is that everyone should have the opportunity to access great-value, high-quality homes in flourishing communities across Ireland. We understand that buying a home is possibly the biggest decision you will ever make in your life – but we want to make it your easiest. Click here to find out more about Glenveagh developments.