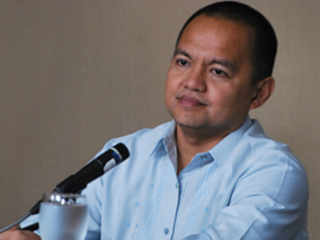 Leonen denies claim his office sought P5M for renovation of Baguio cottage
Associate Justice Marvic Leonen on Thursday denied an allegation that his office endorsed a P5-million proposal to renovate the cottage assigned to him within the Supreme Court compound in Baguio City.
In a statement, Leonen refuted a news article that claimed he had sought the renovation of Cottage G in the SC compound which would have cost the court P4.97 million.
"My chambers never endorsed the P5-million proposal to renovate Cottage G in Baguio City," he said, explaining that the proposal was drafted by the SC's maintenance division and was placed in the court en banc's agenda "without having gone through my office."
"Upon learning of this, I immediately wrote a letter requesting that the matter be withdrawn, and it was promptly deleted," Leonen said.
The news article in the Manila Times was written by Jomar Canlas, whose previous reports formed part of calls by former senator Ferdinand "Bongbong" Marcos, Jr. for Leonen's inhibition from his election protest against Vice President Leni Robredo.
Solicitor General Jose Calida, who similarly sought Leonen's inhibition, also cited articles by Canlas.
Sitting as the Presidential Electoral Tribunal (PET), the SC denied Marcos and Calida's motions. The court also issued a show-cause order against Calida and Canlas, ordering them to explain why they should not be cited for contempt.
A well-placed source said the show-cause order has been withdrawn. 
Also, Calida had requested copies of Leonen's statement of assets, liabilities and net worth (SALN) "for purposes of preparing a Quo Warranto petition," the same legal route Calida took in 2018 when he sought (and successfully) the ouster of then-Chief Justice Maria Lourdes Sereno.
The SC denied Calida's request.
Leonen in his statement called on the media to "adhere to the highest editorial standards and thoroughly verify the information they report to the public," adding that the "duty to be decent" is also a part of journalism ethics.
"Misleading information, whether or not motivated by malice, harms the shaping of public opinion. It skews democracy in favor of malevolent elements," the justice said.
"Disinformation is an insult to the values congealed in free speech. Disinformation, especially from media, should end," he added. —LBG, GMA News