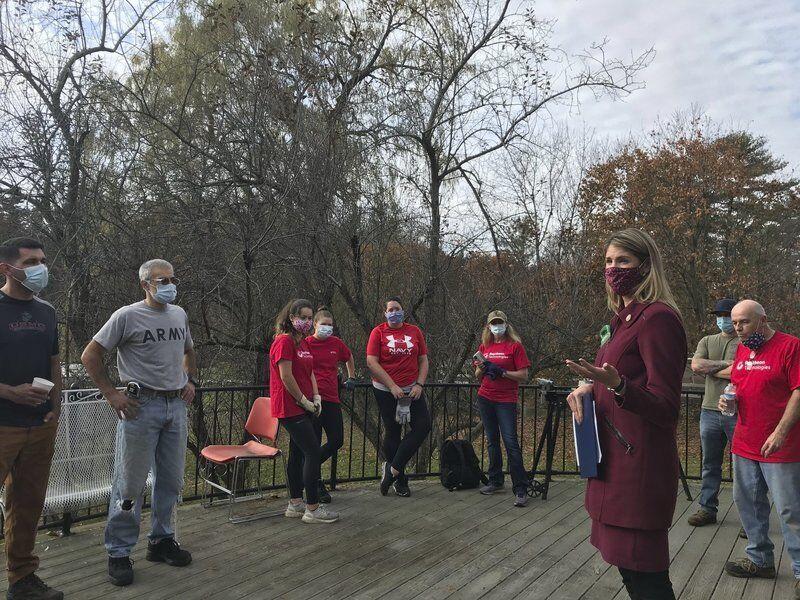 Raytheon volunteers build retreat home for veterans | Merrimack Valley
ANDOVER — They took time off from their regular day jobs to repair gutters, affix drywall and gather communally for veterans, as veterans. 
"It feels awesome to be here, especially on Veterans Day," said Charlie Orosz, a Raytheon employee and former Marine. "So many of us have seen so much, we are almost all veterans. It feels good to come together and to be able to give back to others."
Orosz and more than a dozen other Raytheon employees took the day off work to continue rebuilding a farmhouse that will serve as a veteran retreat center at Ironstone Farm — a therapeutic horseback riding center. 
The farm works with the Boston-based nonprofit Home Base to host therapeutic retreats every weekend for veterans in the program, said Neil Fater, acting executive director for Ironstone Farm. The soon-to-be completed 13-bedroom farmhouse will be available for veterans so they can stay locally during the weekend-long retreat, he said.
Raytheon employees, mostly from RAYVETS, a group for veteran support, have been coming to the farm every other Friday for more than a year to rebuild this house, said Sam Sullivan, the corporate social responsibility leader for Raytheon Missiles and Defense. Employees donate their time, while the defense contractor donates money to the project, including a donation in the works to complete the house's electrical work, she said.
Congresswoman Lori Trahan, D-Westford, also came to the worksite Wednesday to thank the volunteers for "making this retreat home, to make it feel like even more of a special place."
Trahan noted the house still contains many of the original fixtures like the kitchen cabinets, the fireplace and wood paneling. Those "homey" notes were kept by special request of the former Ironstone executive director, Deedee O'Brien, Fater said.
The  will also help the retreat center continue the therapeutic work from working with the horses, Fater explained. When veterans visit for a weekend they do trust exercises with horses during the day, but its when they get to the other tasks, like cooking dinner communally, when they have a chance to reflect, he said. 
That's when they see the change in how the veterans connect with one another, Fater said. Especially during the pandemic, the veterans get to experience a "sense of togetherness that hasn't been happening," he said.