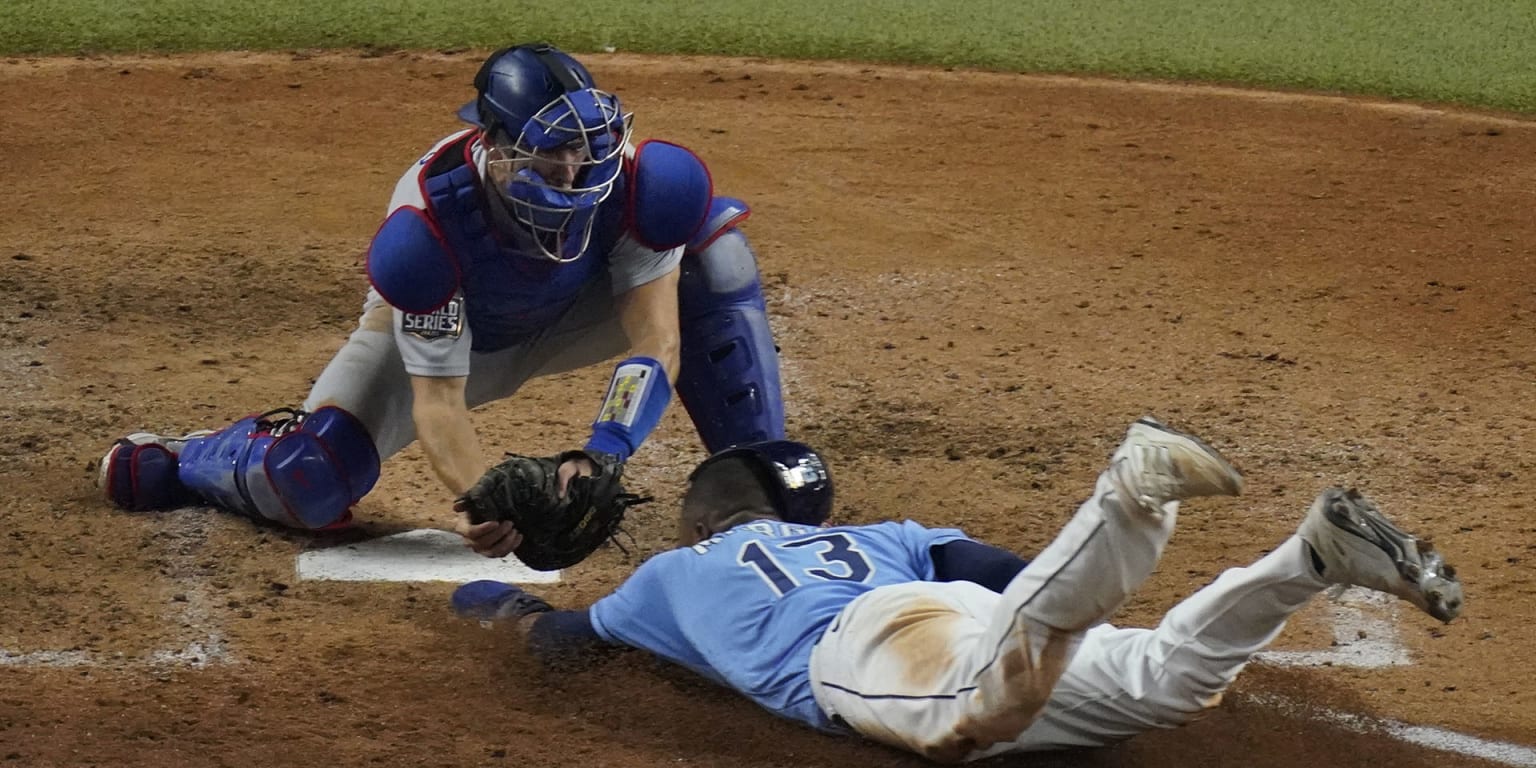 World Series steal of home history
Home runs have dominated much of the discussion surrounding the 2020 postseason, but the most pivotal game of the World Series so far hinged on a key moment of small ball.
• World Series Game 6: Tuesday, 8 p.m. ET/5 PT on FOX
Rays outfielder Manuel Margot attempted a steal of home plate in the bottom of the fourth inning of Game 5 of the Fall Classic on Sunday night at Globe Life Field in Arlington, but Clayton Kershaw adeptly stepped off the rubber and threw home to nab Margot and end what had been a shaky inning for the Dodgers left-hander. The play kept Los Angeles ahead by a run, and Max Muncy's booming homer the next half-inning sealed the Dodgers' 4-2 win.
One can hardly fault Margot for trying for glory (it's the World Series, after all), especially when one considers how rare straight steals of home have come on baseball's biggest stage.
The first 116 editions of the Fall Classic have featured just five such plays, and one has to go back 65 years to an all-time legend to find the last successful occurrence.
Below is a rundown of those five successful straight steals of home, along with a quick glance at some notable double steals in World Series play and some similar baserunning gambits that didn't quite work out.
Successful straight steals
Jackie Robinson (Dodgers), 1955 World Series Game 1
This was one of the most iconic plays for one of baseball's most iconic players. Robinson's legacy is multifaceted, of course, as both the man who broke Major League Baseball's color barrier in 1947, and also a dynamic MVP Award-winning force who wreaked havoc on the basepaths.
The Dodgers trailed the Yankees, 6-4, when Robinson broke for home against New York ace Whitey Ford to cut the lead to one. Yankees catcher Yogi Berra vehemently argued that he tagged Robinson before he reached home plate, and he would maintain that position for the rest of his life.
Robinson was called safe, but that would be Brooklyn's last run of the game as New York held on for the 6-5 win at Yankee Stadium. The Dodgers eventually took the Series in seven games, their only triumph out of six Dodgers-Yankees World Series matchups in which Robinson participated.
Monte Irvin (Giants), 1951 World Series Game 1
Irvin also tested the Yankees in a Fall Classic opener. The Giants were underdogs in this Series, but they scored a surprising 5-1 win in Game 1 at Yankee Stadium, highlighted in part by a dazzling play by the former Negro Leagues superstar.
In the top of the first, Irvin knocked a two-out single and then advanced to third on Whitey Lockman's ground-rule double. Third baseman Bobby Thomson stepped in next for his first at-bat since he had belted his famous "Shot Heard 'Round the World" to win the National League pennant for the Giants just one day before — and perhaps Thomson's presence distracted the Yankees' battery.
Giants manager Leo Durocher signaled for Irvin to break home and, per accounts from the game, Irvin did so with ease.
"When we saw [Yankees starter Allie] Reynolds take the catcher's sign and then look down, Monte looked at me and I said, 'When you're ready, go ahead,'" Durocher told The New York Times. "So when it happened again, Monte had inched up to a lead as long as this room, and the minute Reynolds crooked his finger, Irvin was off."
Monte Irvin steals home in the 1951 World Series. The announcer says he's the 2nd person to steal home in the World Series. Anyone know how many people have done it? @sabr @MLB #monteirvin #baseballhistory #jackierobinson #yogiberra @baseballhall @SFGiants @Yankees @Dodgers pic.twitter.com/XD1AaKS7w5

— The Other Boys Of Summer (@NegroLeagueFilm) December 11, 2018
Despite winning the opener, the Giants eventually lost the Series in six games.
Bob Meusel (Yankees), 1921 World Series Game 2
Meusel actually stole home twice in World Series play, as he successfully executed a double steal with teammate Tony Lazzeri in Game 3 of the 1928 Fall Classic, too. Meusel's steal of home in Game 2 of the '21 World Series at the Polo Grounds came in the bottom of the eighth, when Giants catcher Earl Smith dropped pitcher Art Nehf's pitch at home plate.
Babe Ruth, who was deemed both "The Behemoth of Bust" and "The Monarch of Maulers" in that day's New York Times recap, also swiped two bags.
Mike McNally (Yankees), 1921 World Series Game 1
That's right: the Yankees stole home in back-to-back games to open the 1921 World Series — a Series in which they won each of the first two contests by identical 3-0 scores but went on to lose in eight games. McNally's swipe came in the top of the fifth with two outs against Giants pitcher Phil Douglas, after he had doubled to lead off the inning — just his eighth extra-base hit of the entire season — and was bunted over to third.
Polo Grounds, NYC, Oct 5, 1921 – Mike McNally steals home to give Yankees a 2-0 lead vs Giants in opening game of 1921 World Series. Yanks added another run for a 3-0 win. It was last World Series to use a best out of nine format and first World Series to be broadcast on radio pic.twitter.com/f6OFpPek8x

— Old-Time Baseball Photos (@OTBaseballPhoto) February 28, 2020
The New York Tribune wrote that McNally "came down the trail like a frightened deer, a flying shadow," but one can't argue with the results.
Ty Cobb (Tigers), 1909 World Series Game 2
The 1909 Fall Classic was all about the superstar matchup between Cobb and Pirates shortstop Honus Wagner, and while "The Flying Dutchman" got the better of Cobb in Pittsburgh's seven-game triumph, Cobb added to one of the most impressive baserunning portfolios in baseball history.
Cobb is said to have stolen home at least 32 times across his Hall of Fame career, and so it's fitting he got one in the World Series, too. This swipe came in Game 2 at Forbes Field against Pirates reliever Vic Willis, who, in Cobb's recollection, concentrated too hard on batter George Moriarty and gave Cobb an opportunity before Willis could come to his senses.
Successful double steals
The World Series has seen eight successful double steals that resulted in a runner getting home base, but one has to go back quite a while to find the last time a team pulled it off. That would be former manager Mike Scioscia's free-running Angels in Game 2 of the 2002 Fall Classic at Angel Stadium, a wild 11-10 affair in which Brad Fullmer came home and Scott Spiezio took second against the Giants' battery of Russ Ortiz and Bengie Molina in the bottom of the first.
That aggressive play proved to be crucial in the ninth inning, when Barry Bonds clobbered a towering homer to cut the Angels' lead to one before closer Troy Percival retired Benito Santiago for the final out.
Hall of Fame slugger Hammerin' Hank Greenberg finished his career with only 58 regular-season steals, but he's on this list, too, by way of a double steal with Marv Owen against Hall of Fame pitcher Jesse Haines (1934 World Series Game 4 at Sportsman's Park).
Former Cardinals catcher and longtime World Series broadcaster Tim McCarver came home on one of those eight double steals, teaming up with another longtime broadcaster, Mike Shannon, on a delayed double swipe in the bottom of the fourth inning of a pressure-packed Game 7 against the Yankees at Busch Stadium in 1964.
And how's this for action? In the eighth inning of Game 1 of the 1914 World Series at Shibe Park, the Braves both pulled off a double steal and endured an inning-ending double play in the span of a few seconds. Rabbit Maranville struck out for the second out of the inning as Hank Gowdy stole second and Butch Schmidt came home — all before Gowdy was thrown out at third by the catcher for the final out.
Unsuccessful straight steals
Margot can hold his head high knowing that he's far from the first who has tried and failed to steal home in the World Series. Fans of a certain age may remember when Cardinals left fielder Lonnie Smith was thrown out trying to steal home against Brewers starter Don Sutton in Game 6 of the 1982 Fall Classic at Busch Stadium — the most recent unsuccessful straight steal of home in the Series before Margot (St. Louis went on to win by 12 runs, anyway).
While many diehard fans were likely familiar with Robinson's steal of home mentioned above, you probably don't know that Billy Martin was caught trying to do the same thing in the same game for the Yankees. Martin tried his theft two innings before Robinson pulled off his.
Pirates third baseman/center fielder Tommy Leach was thrown out at home plate in two World Series (1903 and '09), as was Hall of Fame second baseman Johnny Evers (1907 and '08). Cobb stole home in the 1909 Fall Classic, but he was thrown out a year earlier while trying to cap off an inning in which he also stole second and third.
And poor Fred Snodgrass, whose error helped cost the Giants the decisive game of the 1912 World Series at Fenway Park, was also caught trying to steal home in the opener of the previous year's Series against Philadelphia (at least Twitter wasn't around for Snodgrass' October woes back then).
Unsuccessful double steals and failed squeeze plays
Twins outfielder Shane Mack was the last player to be caught stealing home in the World Series prior to Margot, back in the first John Smoltz-Jack Morris duel in Game 4 of the 1991 Fall Classic at Atlanta-Fulton County Stadium. But Mack was tagged out by the catcher after Greg Gagne whiffed on a squeeze attempt in the fourth inning.
A rather strange failed squeeze occurred against the Twins in Game 5 of the 1987 Series at Busch Stadium, when Cardinals manager Whitey Herzog decided to put on the squeeze after his pitcher, Danny Cox, had already gotten to two strikes at the plate. Cox whiffed on the bunt attempt and Jose Oquendo was tagged out down the third-base line to end the inning in a scoreless game with Vince Coleman, a .289 hitter that year, standing in the on-deck circle.
One "failed" double steal actually turned out to be critical for the Red Sox in Game 2 of the 1915 World Series at Baker Bowl. In the first inning, Phillies catcher Ed Burns caught Tris Speaker trying to steal second, and second baseman Bert Niehoff's throw home was also in time to get Harry Hooper. But Hooper's slide jarred the ball loose from Burns' glove, giving Boston its first run via an error on the catcher in a game it narrowly won, 2-1.
Matt Kelly is a reporter for MLB.com based in New York. Follow him on Twitter at @mattkellyMLB.